Come in & browse in our retail shop area were we will be happy to assist you with any enquires you may have. In our shop we provide an extensive range of
Crystals, Himalayan Salt & Selenite Lamps, Crystal Balls Crystal Spheres, Wands, Pendulums Crystal Jewellery, Pendants, Rings Earrings & Bracelets Relaxation Music, Inner Alchemy & Meditation CDs / DVDs Tarot, Oracle & Affirmation Cards Sun Catchers, Decals, Affirmation Banners, Dream Catchers Elemental Fairies, Dragons, Witches, Wind chimes, Lanterns Spells, Spell Candles Incense, Resins, Herbs, Smudge Sticks, Incense Holders & Oil Burners Books, Dream Spiritual Astrology Reiki Metaphysical many more Angels Trumpet Hand Made with Pure Essential Oils, Candle Range Candles from our Shop Extensive range of Pure Essential Oils / Perfumes Energy Field Sprays, Room Sprays Giftware Paintings, Pictures Gift Vouchers, Cards & much more. Come in & say Hello to Persephone the Shop Cat.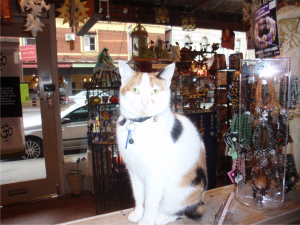 Our resident Cat "Persephone"